Hedgebrook event
in San Francisco,
Dorothy Allison
and
Gail Tsukiyama
offered insights and encouragement to an audience of women writers. I was having so much fun listening to them talk that I didn't take extensive notes, but I can share some of what they said.
Dorothy told us she doesn't write for recognition or money. "I come to writing for purpose and clarity, " she said.
"I don't worry about volume," Gail told us. "I worry about what I've said.… As long as I'm writing something that feels like it's going in the right direction, that's enough."
Getting Started on a Book
One woman in the audience asked, "How do you get started?" Dorothy said she cleans the house. While she cleans, she thinks. Gail said she starts at her desk, or she starts by reading someone else's book, then she cleans.
The woman who asked the question said, "This sounds like it's a process of being with yourself." Ah.
Dorothy said she also goes to the gym; lots of writing happens there, and since it's hard to write while working out, she talks into a tape recorder.
"I believe structure and foundation are important in beginning [a novel]," Gail said. "There are questions of voice: First or third person? Who's telling the story? One voice or many voices? Those are the things that are difficult in the beginning. Every time I begin a book, I'm back to square one."
Going Back to Square One
As I write this post I'm thinking, hmmm, my house isn't as clean as I wish it were and I haven't been to the gym in weeks. I know it's time to sort through the piles on my desk, catch the dust bunnies, and go for a run, because even though "butt in chair" is basic advice for writers, time off and physical activity count as writing time too. When you're in a story, you're in it no matter where you go, so it's good to carry a tape recorder or a notebook with you.
Since I decided to spend this month writing a scene or two every week, I've been writing daily, experimenting with voice, crafting short pieces, reading fiction, and taking notes whenever ideas arise. For me this is a month of experimenting. I'm just beginning to shape my material, and I'm looking for the right voice and structure. I was happy to hear Gail note that these are important things to do at the beginning of a book. Dorothy also talked about voice and framework in our Writing by Writers workshop at Tomales Bay.
I like this experimental approach. It feels a lot better than some of the other ways I've begun novels that I've let languish. Those strategies included starting with plot instead of character and event; dreaming about the characters and story while driving to work instead of while I had a pen and notebook in hand; writing in one voice and then stopping when I knew I couldn't sustain that voice, instead of experimenting with a different voice; thinking I'd failed to write a novel instead of asking myself if I was really developing a short piece. All of those failed strategies have led me to a new way to write, and listening to writers I admire discuss the way they work has given me courage.
Completing a Book
When a woman at the Hedgebook event asked, "How do you complete a book?" Dorothy said, "Having a writing group helps a lot. A supportive community is vital."
Gail told us that her writing group has been together for 25 years. "I have seven books published. I'm always afraid to send a new chapter to my writing group.… But that's part of it.… You may need the objectivity of outside eyes."
Another woman described the difficulty she's having starting her second book after spending ten years on the first book. Dorothy said, "When you finish a big work, there has to be a still point. You need to replenish."
Practicing Radical Hospitality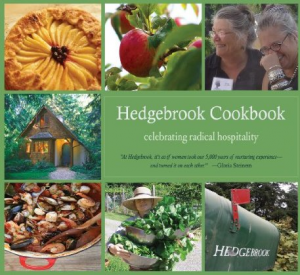 This program was part of Hedgebrook's practice of "radical hospitality." Hedgebrook offers residency fellowships and master classes to women writers on Whidbey Island in Washington. They've put together the beautiful four-color Hedgebrook Cookbook: Celebrating Radical Hospitality, which includes recipes from their chefs and insights from many of their fellows and teachers. This book makes me feel like taking really good care of myself—cooking, writing, connecting with my writer friends. (Of course, I'll have to clean before I host a dinner party!)

Hedgebook executive director Amy Wheeler said, "When you give a woman time and space to write … she'll go to deep reservoirs … and she'll take that back to her community." This event was a deep reservoir for me.

How do you create community? Where do you find the reservoir of support to keep you going? If you're writing scenes this month or doing NaNoWriMo, how's it going?

I find it heartening to hear how established authors work. At Saturday's